2020 President
Noble Wayne Wiggins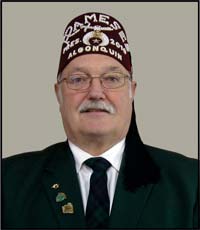 I'm truly honoured to be the President of Algonquin Shrine for the third time in my Shrine Journey. I have previously served as your President in 2012 and 2015 and been on your executive for 10 years holding many various positions. I also started our CLOWN Unit in 2017 and if you wish to add to your Shrine Journey, and see all the smiling faces on the children, as we participate in our parades, please join this fun Unit.

I was initiated into Masonry in November 1981, at Saint John's Lodge #17 in Cobourg. I affiliated with Bancroft Lodge # 482 in February 2009. I had the great honour of Joining Rameses Temple and the Algonquin Shrine in June 2009.
I have been married to my Lady Jewel for 54 happy eventful years. We have a Son married living in Peterborough with a son and daughter, also a Daughter married and living in Cobourg with 3 boys and a daughter.

My working Career was with Bell Canada for 31 years, during that time I worked in Oshawa, Cobourg, and Toronto. I retired back to Bancroft in 1997 where I have since held many different positions and jobs. I have been on the Town of Bancroft Council for 12 years, serving one term as the Deputy Mayor.
"TAKE A 20/20 AT YOUR SHRINE EXPERIENCE"
2020 Executive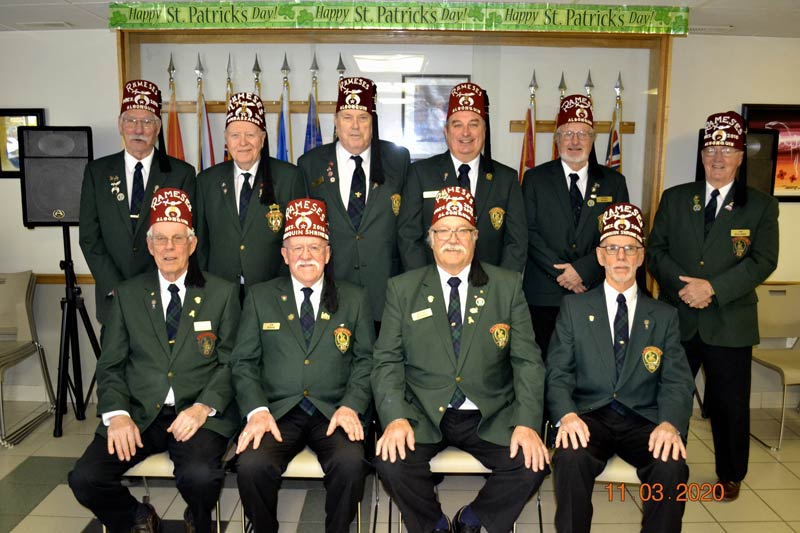 President:
Wayne Wiggins
613 334 1245
1st Vice Pres.:
Jim Burke
613 334 5537
2nd Vice Pres.:
Ron Mark
705 887 3250
Past Pres.:
Charles Mullett
613 334 1148
Secretary:
Dave Earle
613 334 7455
Treasurer :
Dean Linton
613 332 4491
Chaplin
Vaughn Lloyd
613 334 6082
Ambassador:
Barry Robb
705 286 3241
Directors:
Jim Williams
613 332 8027
Kevin Fudge
905 260 7709
Barry Cross
613 202 1634
Ed Otto
613 448 2106
Dave Mount
705 489 1614
Steven Berry
705 286 1826
Auditors:
Larry Donaldson
613 332 5254
Eric Mueller
613 338 3405